Contract Manufacturing of APIs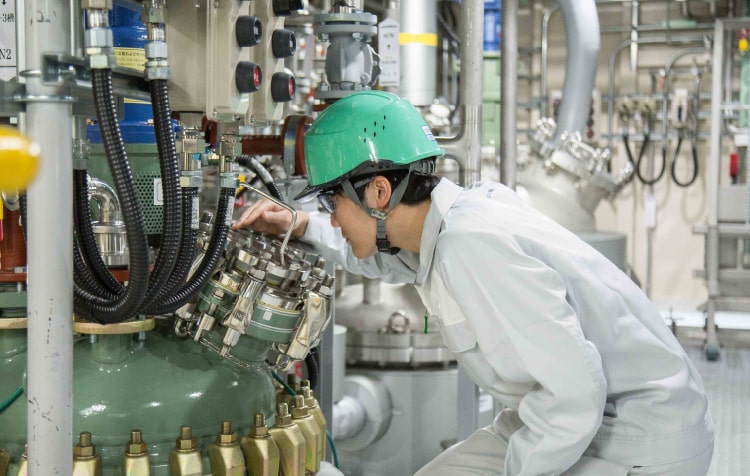 The production system follows
GMP/Global Quality Standards.
Supply high-quality APIs stably and continuously.
Kyowa Pharma Chemical manufactures APIs, compounds in the early stages of development, and APIs for clinical studies by using our unique chiral technologies such as enzyme reaction, asymmetric synthesis, and optical resolution methods.
In order to ensure a stable and continuous supply of high-quality APIs, we devote our total manufacturing technologies (including the design and engineering of production facilities) to establish each plant. The production systems at multi-purpose plants rationalize and optimize the process of each product, and allow us to handle large-volume batch production to low-volume production and multi-items production. Our production facilities that are rich in variety can handle a wide range of production scales. We establish flexible production systems with these facilities, and these have been well-received by a lot of our customers.
Furthermore, we have established a management system in accordance with GMP (Good Manufacturing Practice) and global quality standards.
We can respond to a wide range of customer requirements in terms of quality and pharmaceutical regulatory affairs.
Contents of Contract Manufacturing
We offer total support from early R&D to the commercial stage.
Preclinical

Production of related substances and samples
We support research such as synthesis study of samples (FTE basis).
Clinical Study

Manufacturing of APIs to support clinical studies
We manufacture APIs for clinical studies using gram-scale manufacturing equipment.
Launch

Process development
We have extensive experience in the process of developing complex
and highly potent small molecules (e.g., Prostaglandins).
Contract Manufacturing of APIs
We have systems conforming to US, EU, and Japan GMP requirements.
Maturity stage
(Product Lifecycle)
Process improvement and optimization
We have achievements in process improvement using Bioconversion methods.
Development Support and Patents List
We have several patents. Our flexible technology enables support from the early stages of development.
■Patents List
Synthesis methods
for Prostaglandins

JP 2019-131510, International Publication WO 2020/195437, pending 1
Bioconversion

International Publication WO 2021/132536
Manufacturing methods
for optically active substances
(Catalyst derived from plants)

Patent No. 6678442, No. 6630667
Supersulfides

International Publication WO 2021/200487, and 4 applications are in process
Cosmetics

Patent No. 4533415, No. 4680775, and many others
■Introduction to Unique Patents
In addition to patents related to the synthesis process, we also have our own unique patents.
Asymmetric ring-opening reaction of meso-epoxides catalyzed
by water-soluble polysaccharides from soybean
Patent #: 6630667: PROCESS FOR PRODUCING OPTICALLY ACTIVE SUBSTANCE
Developed a functional catalyst derived from a plant
The function is present in many plants
Components of ordinary foods can also be catalysts
Main structural component is the "carbohydrate chain"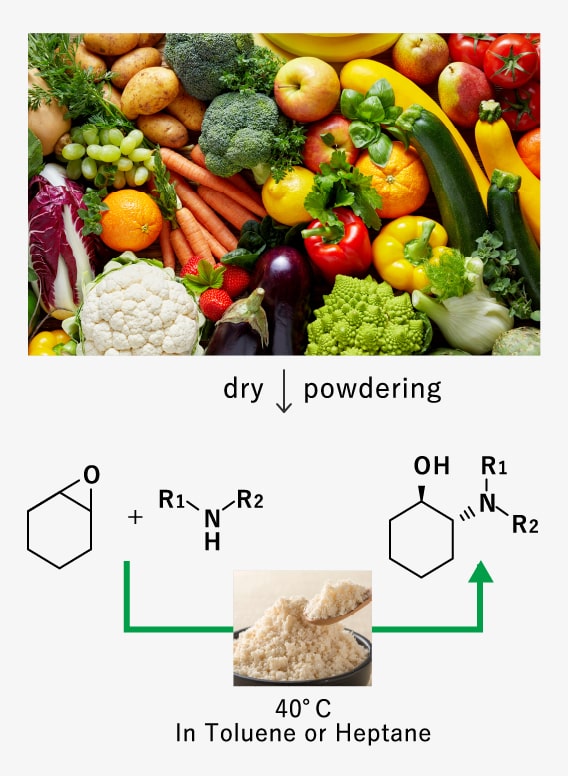 Property of the Catalyst
Heat resistance : Remains active at 100° C
Recycle : Possible (Regeneration treatment is NOT needed)
Physical property : Non-soluble in organic solution (Easily separable by filtration after the reaction)
Substrate specificity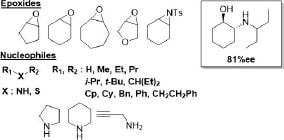 Facilities and Equipment
We have a production system with comprehensive manufacturing technology, high efficiency, and environmental protection at the same time. In order to provide a stable and continuous supply of high-quality products that meet our customers' requirements, we establish plants with total manufacturing technology, including engineering technology.
Introduction to Our Facilities
Plant A
Manufacturing
products
APIs and Intermediates
Lot size
up to 50 kg
Major facilities
Manufacturing area
Reactor
10L, 20L, 50L [Glass flask]
100L, 200L, 500L, 600L, 800Lx2, 1600L, 2000L [GL]
50L, 100Lx2, 200L, 500Lx2, 1200Lx2, 1500Lx2 [SUS]
Silica gel column
30L, 40L, 150L, 250L, 350L, 500L [SUS]
Flash evaporator
10L x 2, 50L x 2 [Glass]
Rotary evaporator
10L, 20L x 4 [Glass]
Centrifuge
30B [SUS], 30B [Hastelloy], 36B [Hastelloy]
Conical dryer
400L[GL]
Controlled room
Two rooms
Rotary evaporator
1L x 3, 10L x 2
Flash evaporator
50L x 2 [Glass]
Lyophilizer
40L/ batch
Plant B
Manufacturing
products
APIs and Intermediates
Lot size
up to 30 kg(300-500L)
Major facilities
Manufacturing area
Reactor
340L (-80~120℃) [GL] , 500L (-30~120℃) [GL],
340L (-30~120℃) [GL] , 300L (-30~120℃) [SUS]
Portable mixing tank
100L x 3  [SUS]
Portable tank
200L x 2  [SUS], 200 L[Hastelloy]
Filter
0.3m2 [SUS] x 2, 0.5m2 [SUS]
Vacuum shelf dryer
3m2 [SUS]
Milling machine
Possess
Controlled room
Two rooms
Reactor
300L (-25~120℃) x 2 [SUS]
Filter dryer
0.3m2 [SUS], 0.3m2 [Hastelloy]
Plant C
Manufacturing
products
Intermediates
Lot size
up to 800 kg(3,000-10,000L)
Major facilities
Manufacturing area
Reactor
3000L, 9200L, 10000L [GL]  etc.
3000L, 6000L, 10000L [SUS]  etc.
Reduction reactor
4900L [GL] , 5000L [SUS]
Filter dryer
1700L [SUS]
Centrifuge
48B [Hastelloy] , 48B[SUS]
Conical dryer
4000L [GL]
Plant D
Manufacturing
products
APIs and Intermediates
Lot size
up to 30kg(10-800L)
Major facilities
Manufacturing area
Reactor
10L, 20L [GLASS]
200L, 200L, 800L [SUS]
500L, 800L [GL]
Filter
20L, 70L, 120L [SUS]
Conical dryer
450L [SUS]
Portable column
Possess
Flash evaporator
50L
Rotary evaporator
20L x 2
Controlled room
Crystallization tank
(Kilolab)
20L, 50L
Filter dryer
20L x 2[SUS]
Flexible isolator
Possess
Plant E
Manufacturing
products
APIs and Intermediates
Lot size
up to 800 kg(3,000-8,000L)
Major facilities
Manufacturing area
General Work Area Zone1
General Work Area Zone2
Reactor
8000L×2 [GL]
8000L [SUS]
Reactor
8000Lx2 [GL]
6000L [SUS]
Dissolution tank
3000L, 5000L [GL]
3000L [SUS]
Dissolution tank
5000L x2 [GL]
Agitation tank
6000L×2 [GL]
Agitation tank
6000L [GL]
Centrifuge
48B [Hastelloy]
Centrifuge
48B [Hastelloy]
Conical dryer
4000L×2 [GL]
Conical dryer
4000L [GL]
Purified water
manufacturing facility
Possess
Purified water
manufacturing facility
Possess
Controlled room
Reactor
8000L [GL]
Centrifuge
Φ1000 [Hastelloy]
Conical dryer
4000L [GL]